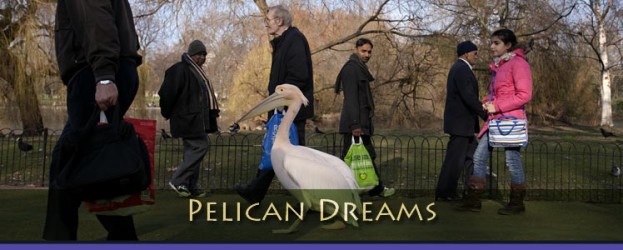 Date & Time
Sunday, March 29, 2015
1:00 pm - 7:30 pm
Two Screenings:
1:00 p.m. UPDATE: Now with guest star Morro the Pelican 1:00 p.m. only!
5:00 p.m.
Special appearance by Filmmaker Judy Irving & husband Mark Bittner, the "star" of Judy's film "The Wild Parrots of Telegraph Hill". They have generously provided their support to our Birdathon.  After each showing there will a question and answer session with Judy and Mark.
There will now be an appearance by Pelican Morro (co-star of Pelican Dreams) with his care takers. See links at the bottom of this page.
Cost: $15
Buy at the door
Or guarantee a seat – buy a ticket online at:
Description:
With her Wild Parrots of Telegraph Hill, filmmaker Judy Irving captured the inner lives of San Fran's psittacine citizens. Now she's turned her camera on pelicans with her new documentary Pelican Dreams. Irving presents the journey of Gigi, an injured pelican rescued on the Golden Gate Bridge, and in the process weaves a stirring conservation portrait of one of America's oddest and most beloved birds.
Ms. Irving explains: "Because pelicans have an ancient magic about them, and because their near-extinction and recovery parallel our human relationship to the environment, I've been wanting to make a film about them for years, but I needed a good story!"
Movie info on Rotten Tomatoes
Watch the Pelican Dreams trailer on Vimeo
Read about Morro in San Luis Obisbo's The Tribune (includes YouTube clip)
Visit Morro's Facebook page